Lin Tianmiao
Braiding
1998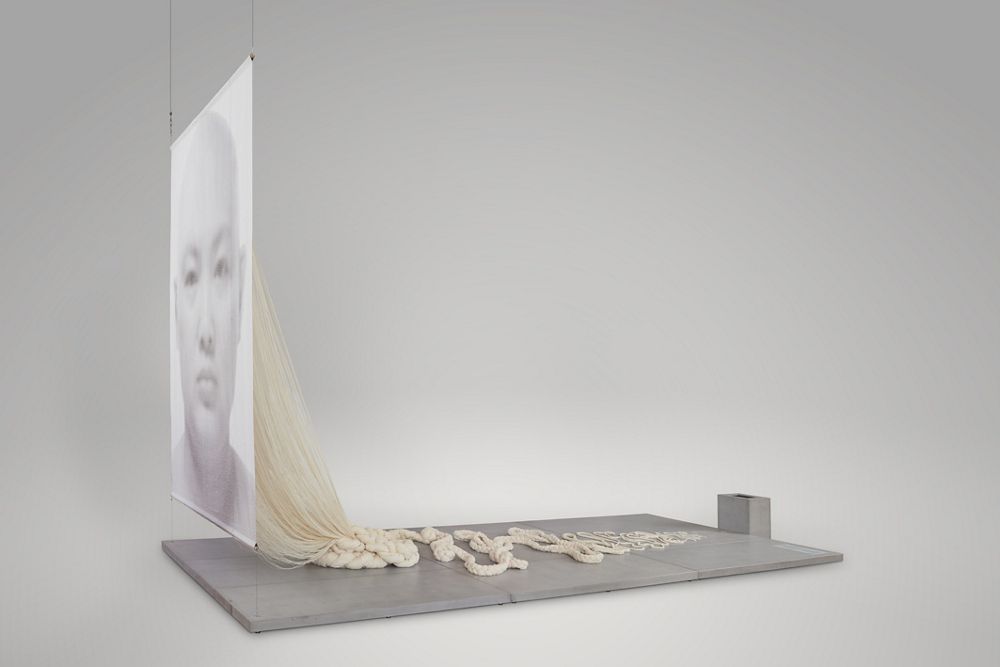 M+ Sigg Collection, Hong Kong. By donation, © Lin Tianmiao. Photo: M+, Hong Kong
LIN TIANMIAO: 
Hello there! I am artist Lin Tianmiao, currently living and working in Beijing. 
PRESENTER:
When we spoke with Lin Tianmiao, she walked us through Braiding, this impressive piece of installation art now on display at M+. Cotton threads, like those trailing from the back of the imposing self-portrait canvas, often play an important role in Lin Tianmiao's wider work, and we asked her why that was.  
LIN TIANMIAO: 
In the 1960s and 1970s, general supplies in mainland China were very scarce. Almost all clothes, quilts, and even shoes required the mistress of the family to be self-sufficient. When I was very young, I had to help my mother arrange these cotton and woollen threads to ease the heavy burden of housework. Therefore, I find cotton and wool materials which haven't been bleached and dyed very comforting. Cotton is a natural thing, so there's no strangeness to using it at all. Over the years of using it in my works, I gradually discovered that the possibilities for cotton thread are endless. 
PRESENTER: 
The other key element of this artwork—the giant self-portrait—is another motif which recurs throughout Lin Tianmiao's work. She has long been interested in portraits, ranging from Mao's portrait—which surrounded her as a child—to more modern portrait photography. These are often works which show the politics and social ideology of sitter; Lin Tianmiao, however, seeks to strip all of that away.  
LIN TIANMIAO: 
Thanks to my reflections on the history of 'the portrait', inspiration for how to use and present my own 'portrait' have fed into my artistic creation. The feeling of using my own body began to feel more appropriate. I obscured all the symbols of 'gender' characteristics, to the point where this gender is difficult to identify. I also tried to eliminate particular attributes such as class, occupation, that various societies and cultures, have given to individuals. Instead, I only retain the 'natural' that's common to all humans.  
NARRATOR:
Braiding is an installation work created by Lin Tianmiao in 1998. The medium includes digital print on fabric, cotton thread, and a colour, silent, single-channel digital video. The work measures 400 centimetres high, 260 centimetres wide, and 1500 centimetres deep.
A large piece of cream-coloured fabric is suspended in the air from the ceiling, which is about the height of two doors stacked up, and the width of three doors placed side by side. On the fabric is a slightly blurred black-and-white portrait photo of the artist, in which the artist has a shaved head, making it hard to identify the gender of the person portraited. This artist looks straight into the camera and has a neutral facial expression, showing neither a smile nor a frown.
Countless tiny knots have been tied on the surface of the fabric. When viewed from the back, thousands of thin, cream-coloured threads are pulled through the fabric, which cascade down to the ground and gather to create one thick, large braid. The braid twists and tangles and extends for many metres, getting thinner and thinner as it extends further away from the portrait until it becomes a thin braid. The end of the thin braid is connected to a small device that displays a video, which depicts a pair of hands braiding three threads by crossing the threads repeatedly. The thin braid appears to be connected to the braid in the video.