Tsang Tsou-choi (King of Kowloon)
Doors
2003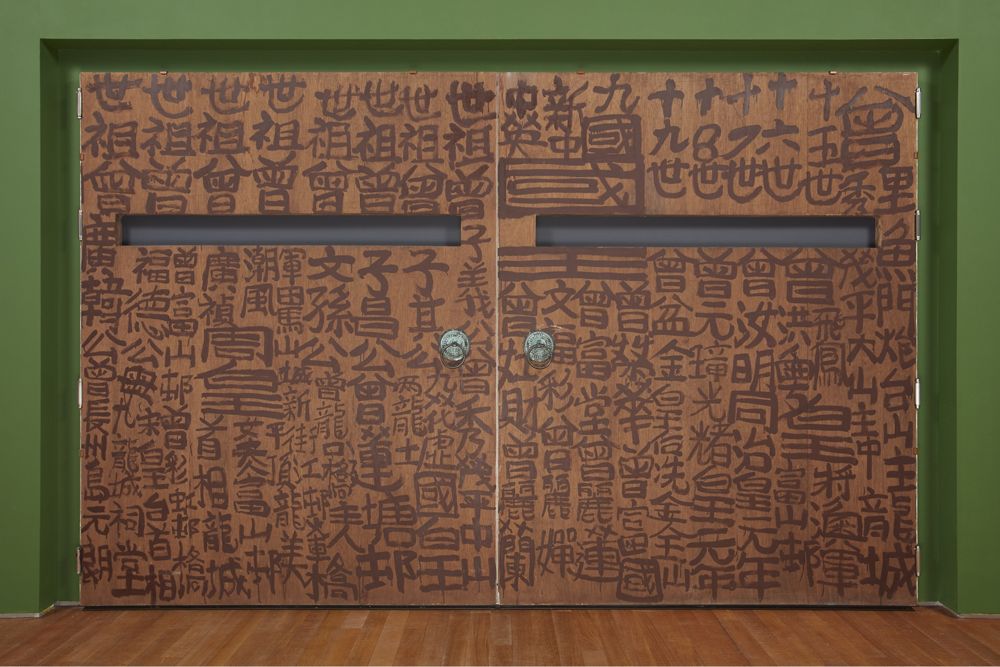 M+, Hong Kong. Museum purchase and gift of Timon Wehrli, Red Dog Studios, 2012, © Tsang Tsou-choi / King of Kowloon. Photo: M+, Hong Kong
CHIP TSAO:
I'm Chip Tsao, born in Hong Kong. I've been working in the media for decades.
I was six or seven. I lived on Hong Kong Island; we rarely went to Kowloon. One day my father needed a book from a Japanese bookstore there. He took me there by ferry, and afterwards we got lost. While wandering around, we came across some bold, rough writings on the walls and under a flyover. Then we saw a bald, chubby man who was adding more characters underneath. I asked my father, 'Who is he?' He said that he was a beggar.  'But why's he saying that he's a king?' I asked.  'He's mentally ill,' my father replied.
PRESENTER:
This was Chip's first encounter with Tsang Tsou-choi, the author of this work who would become known across Hong Kong as the 'King of Kowloon'. It's his work you can see here, on these imposing double doors.
At first, most people accepted that Tsang's behaviour was evidence of mental illness. Tsang called himself the 'King' of Kowloon because he believed that his ancestors were once the rightful owners of Kowloon. To assert this, he began to write all over the city from the 1950s onwards as an act of resistance against British colonial rule over Kowloon ceded by China under the terms of the 1860 Convention of Peking.
CHIP TSAO:
He imagined himself to be the 'King of Kowloon' who owned the whole of the peninsula. Tsang later wrote out clearly his genealogy, including the names of his father and grandfathers and great grandfather, all over Kowloon, and we then started to realise his intense emotional attachment to Hong Kong. He thought Kowloon should never have been ceded to Queen Victoria, as the land now belonged to him. He was the sole successor. His calligraphy is therefore embedded with such history and politics and forces us to reflect upon who really should have been the sovereign owner of Hong Kong. People became more aware of the fate of Kowloon and the New Territories when we got the lease ended in 1997, so his calligraphy really connects us to the 1997 rupture or 'deadline' of Hong Kong.
PRESENTER:
Chip feels that it's not just this political history behind Tsang's writings that's important, but also how it's come to be such a defining feature of Hong Kong's cityscape over the years.
CHIP TSAO:
There's a certain kind of naivety and clumsiness in his calligraphy, it's unsophisticated but delightful. I feel that this old man had innocence in his heart. He realised that the most precious things in Hong Kong were always freedom and innocence. If you embrace this freedom and innocence expressed in his aesthetic simplicity, then you'll understand Tsang's kind-heartedness. Although he has been accused of defacing public properties through his writings, this isn't really the case. People have come to realise that his calligraphy has become embedded in the city urban landscape, and become a part of our public memories for the past thirty years.
NARRATOR:
This work titled Doors is a calligraphy work on a pair of wooden doors, created in 2003 by Tsang Tsou-choi, also known as the King of Kowloon. These doors are a bit oversized compared to regular ones: each door is 211.5 centimetres high, 167.5 centimetres wide and 11.8 centimetres deep.
This is a pair of brown wooden doors that look very similar to one another and are symmetrical. About a quarter-way down on both doors, there is a horizontal rectangular slit in the door that we can see through.
Traditional Chinese characters are written all over both doors in blackish brown ink and can be read vertically from right to left. The ones above the slit are a bit larger than the ones below it. The characters on the right door are a list of names of Tsang's ancestors, the historical period in which they lived, and the number of generations of Tsang's family, from the 15th generation to the 19th generation. Similar to the right side, the left door also lists the name of the Tsang's ancestors. Yet, instead of writing down the number of generations and the historical time they belong to, Tsang lists where they lived.
Near the centre of the double door, a ring door knocker is installed halfway up on both doors. Patina has spread all over the hemispherical base of the knocker.