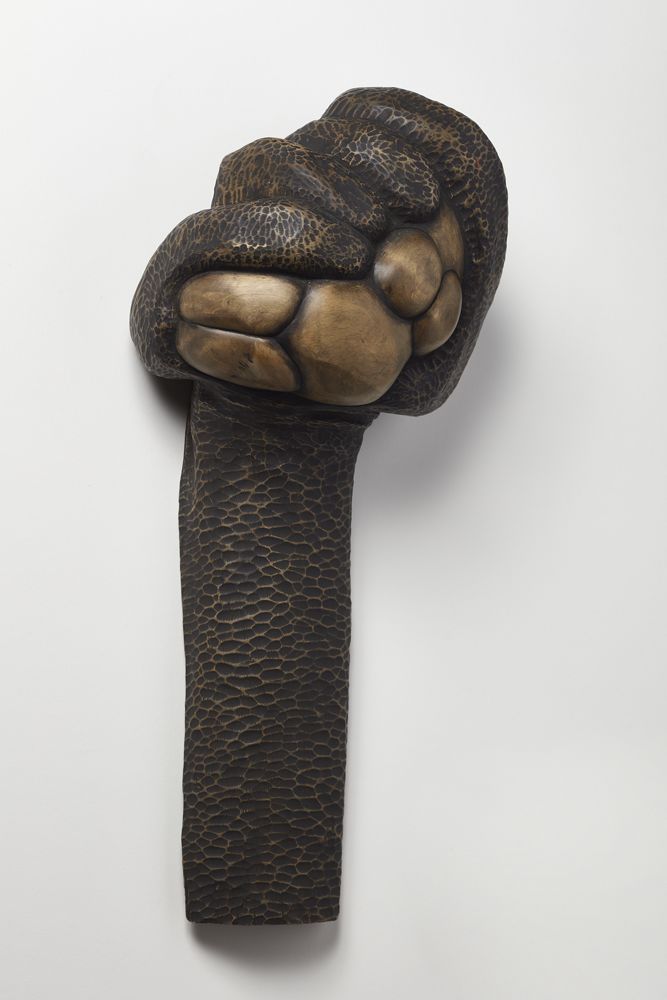 M+ Sigg Collection, Hong Kong, © Wang Keping. Photo: M+, Hong Kong
PRESENTER:
This striking sculpture in wood is by Wang Keping. He was one of the founding members of the remarkable Stars Art Group; an avant-garde group of self-taught Chinese artists working in the late 1970s and early 1980s. The piece, with the strong, bold symbolism of the fist, speaks directly to their spirit of self-expression in the relatively open atmosphere after the end of Cultural Revolution.   
Liu Heung Shing is a photojournalist and was one of the first eight American reporters sent to Beijing in 1978 to cover the shifting landscape.  
LIU HEUNG SHING: 
China decided in November of 1978 to launch a full-scale economic reform. And this is a very fortuitous time, there was a general relaxation across the board: socially, culturally artistically, so that significance could never be understated because the impact was absolutely sweeping across the whole of China in every aspect. 
PRESENTER:
As Chinese society opened up, collectives like the Stars Art Group began to make increasingly public statements on the freedom of art. Through his reporting, Liu Heung Shing came to know members of the group well, and we asked him how he saw the movement looking back.  
LIU HEUNG SHING: 
I would encourage everyone to look at this phenomenon to be a reflection of what was happening in China across the board, because change was starting to, to happen in literature, poetry, art, sculpture, painting, woodcutting, photography. You know, I think that the significance of Stars [Art] Group was saying to the society overall, say, 'listen to us, look at us, see what we do, what we wanted to do'. 
And this is something almost unheard of in People's Republic of China, because until then they probably had never seen a foreign journalist. They never realized there were people who were interested in their story and interested in their personal stories no less. So, you can sense that the Stars [Art] Group, like a lot of intellectual writers, story tellers and so on, are beginning to, to kind of slowly kind of peer through this artificial wall around them, that was set up by the system. 
NARRATOR:
Fist is a wooden sculpture created in 1981 by Wang Keping, 56.5 centimetres high, 26 centimetres wide, and 15 centimetres deep.

This is a wooden sculpture of a fist that stands on its forearm, which is about two feet high. The fist and forearm are carved in a pattern that looks like a metallic bronze. The entire hand has many small dents on the surface which resemble a scalelike pattern. The fingers of the hand are wrapped tightly around a few round and oval shapes, which are arranged in a way that resembles a plump female body lying sideways.

This abstract female figure has a different tone and texture than the hand; it is smooth and of light sandy tone with some dark wash that creates shadows, displaying her chest, breasts, abdomen, and part of her lower body. The hand envelopes the small but voluptuous body of the woman and covers part of what could be her head, arms, and part of her legs. Both sides of her arms and calves are folded behind her inside the fist. The thumb of the hand is much longer than what a life-size finger would be, and it appears to connect into one form with the index finger. The long thumb is tightly wrapped over the figure's head.