Sammy's Kitchen, Fu Wah Neon Engineering Company
Neon sign for Sammy's Kitchen
circa 1978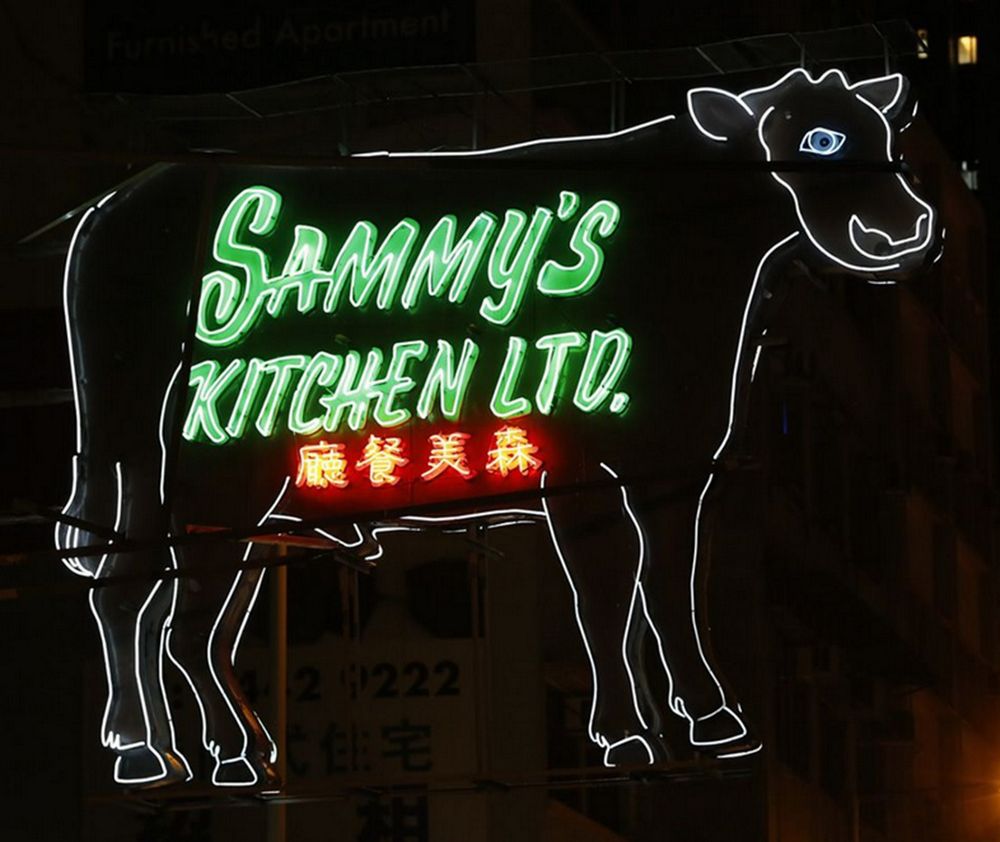 M+, Hong Kong. Gift of Sammy's Kitchen, 2013, © Sammy's Kitchen Ltd. Photo: M+, Hong Kong
IRY IP: 
My name is Iry Ip; my father Sammy founded this restaurant, Sammy's Kitchen, decades ago; I'm now helping run it as the inheritance of my father's business. My father sketched an Angus breed cow for the sign-maker; it was intended to be an outdoor symbol that showed we served steak. It was the first neon cow sign on this street. 
PRESENTER: 
That cow would go on to become one of the area's most iconic neon signs. When Sammy was told the cow had to be removed due to safety concerns, M+ stepped in. As a museum of visual culture, it had always been its intention to collect these signs that are so closely tied to Hong Kong's visual identity. Sammy's cow was the first neon sign that M+ collected. We asked how Iry felt about the cow's new home, after spending so long above her restaurant.  
IRY IP: 
The old buildings across the road had balconies where plants were placed, such as palm and other species.  The cow sign was facing the plants and it looked like the cow was grazing on them. The cow really looked like that. Those old buildings were gradually demolished though, and the cow seemed older without its plants. So, the neon cow sign now retires to the museum, where it can relax and chill. 
That cow, to us, is a member of our family; we shouldn't sell our family member, so, selling wasn't an option at all.  It's better like this, settling in the museum and becoming part of history, finding a place for the sign.  
PRESENTER: 
There's one final twist to this cow's story: it had become so familiar in its place above Sammy's that, when it was removed, it caused some unexpected problems… 
IRY IP: 
Some 'kaifong' or neighbours, came to tell me that they had missed their usual bus stop after the neon cow sign was taken down, even though they'd been living in the district for decades! They used to see the light of the sign getting close, and would know that there were only one or two stops until theirs. But after the cow was gone, they lost this marker and missed the stop. The neon cow sign obviously offered a significant sense of familiarity. 
NARRATOR:
This is a neon sign for Sammy's Kitchen, designed by the restaurant's owner Sammy Yip and produced around 1978 by Fu Wah Neon Engineering Company. The sign measures approximately 3.6 metres high, 4.5 metres wide, and 40 centimetres deep. Its materials include exhausted glass tubes, neon gas, argon gas, zinc, steel, and paint.


This extremely large cow-shaped neon sign was originally hung at a right-angle outside the restaurant. It was overhanging Hong Kong's Queen's Road West so that it could be seen from a distance. The sign shows a side view of an angus cow on both sides and is coated with a dark brown paint. Some of the paint has cracked, curled, or even flaked off, revealing the original silvery colour of the metal sign. The contour of the cow is clearly visible with thin white neon light outlining the cow's body, limbs, and facial features.


The words 'Sammy's Kitchen LTD.' are centred inside the body of the cow. The letters are green in colour and traced by neon light. The words are lined up in two rows and occupy two thirds of the cow's body. Under these words are four Chinese characters in reddish orange with neon light overlaying on top, showing the Chinese name of the restaurant.


The cow's eye and eyeball are outlined in neon light. The nose is represented by an upward crescent-like shape, formed by two curved lines of neon light. One line stacks on top of the other, and they're about a hand's breadth apart. Another line follows, outlining the cow's jawline.