Huang Yong Ping
Six Small Turntables
1989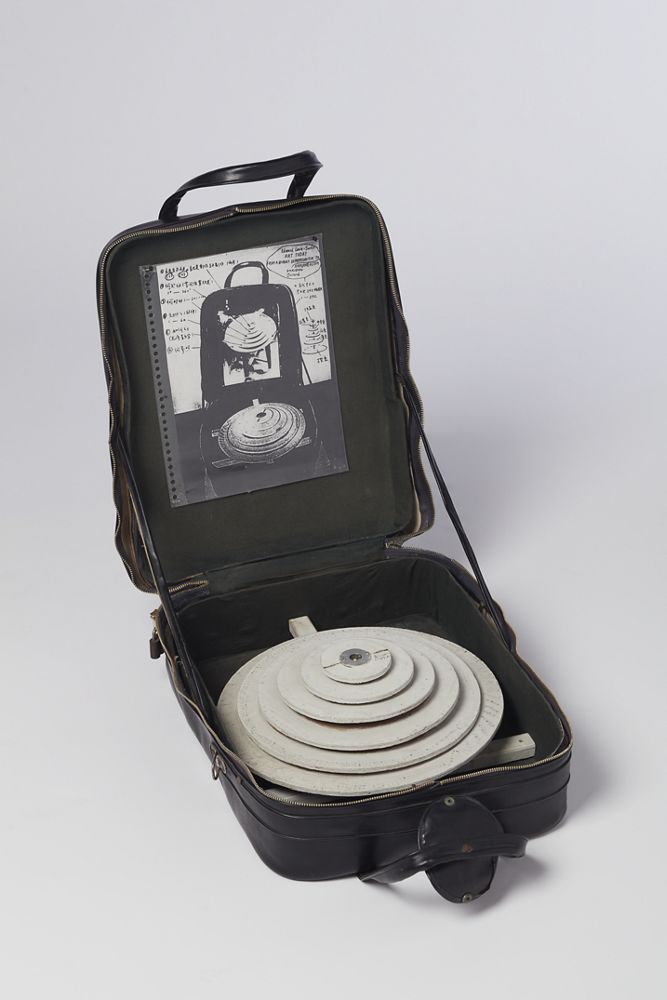 M+ Sigg Collection, Hong Kong, © Huang Yong Ping. Photo: M+, Hong Kong
PRESENTER:
Is this a piece of equipment, or an artwork? In many ways, it's both. Made by Huang Yong Ping in 1989, it's highly representative of the artist's changing approach to art at the time. Strongly influenced by the ancient Chinese divination text 'I Ching' , or 'Book of Changes', Huang Yong Ping was keen to resist the contemporary movement towards self-expressionism, and instead leave the creation of artworks to destiny, and chance.
SHEN YUAN:
After 1985, he intended to detach himself and his own thinking from his works and artistic practice. For instance, he started to make art based on 'I Ching' ; he used the turntables to determine what and when he made art.
PRESENTER:
That's Shen Yuan, Huang Yong Ping's wife. She told us exactly how an artist could spin these turntables to determine the form of their work.
SHEN YUAN:
The first small turntable determines whether it moves or not, which means whether to make art or not. The second turntable would decide where he made the work. When he moved the turntables, the third one would tell him at what time he should start making the work. Then the fourth one would determine the materials used, whilst the fifth one would tell him how to do it. The sixth turntable determines the frame of reference for his work.
PRESENTER:
Shen Yuan is an artist herself. We asked her whether she and her husband would ever discuss their work not just as partners, but as peers.
SHEN YUAN:
That's right, we'd have this kind of conversation on a daily basis. He would come ask my thoughts whenever he had any new project idea. Same with me. I would go to him for feedback. And we would either make some changes or carry on with what we were doing. We never, ever completely changed our plans because of our comments on each other's works, rather our discussion simply consolidated or validated some of our thoughts.
NARRATOR:
Six Small Turntables, was created in 1989 by Huang Yong Ping, using a leather case, ink on wood, and black-and-white photographic print. The work measures 57 centimetres high by 44 centimetres wide and 77 centimetres deep when the leather case is opened.
This work incorporates a black leather case resting on a white pedestal. The case has two handles in the front, zips on three sides, and is open. Inside the leather case is a stack of six wooden concentric turntables. Each one is smaller than the one stacked beneath it. These wooden discs are white in colour. The surface of each disc contains a different amount of equally spaced numbers starting from '0'. They are marked along the circumference with pale black ink. Attached to the interior of the top cover of the case is a black-and-white photograph of the black case and discs. The photograph is printed on ordinary paper and is placed inside a plastic sleeve. Operation guidelines and instructions are written all over the photograph in simplified Chinese characters. The case in the photograph is opened just like the physical work and the interior of its top cover also has an image of the discs attached.
The white paint on the physical turntables is beginning to flake. The words 'Huang Yong Ping, 1989, 2' in Simplified Chinese mixed with Arabic numbers are written on the first or uppermost disc, with just a single '0' visible on it. On the instructions, words depict this layer as 'Top Cover Tract', 'to Move and Not to Move equals to Create or Not to Create', open bracket, 'both', close bracket. The numbers '1' and '0' are quoted below the words 'to move' and 'not to move' respectively.
Next, the second disc contains eight numbers. They begin with '0' and increase with an increment of '45' degrees. On the instructions, this disc is described as 'Front Tract', 'Where to Move', open bracket, 'Regulations of Space and Position', close bracket. '1 to 360 Degrees'.
The third disc is numbered from '1' to '24'. Words written on the instructions are 'Central Scroll Tract' and 'When to Move'.
The fourth is numbered from '1' to '64', which the user guide refers to as 'Post- Tract', 'What to Move' and 'Materials' in brackets.
On the circumference of the fifth disc are hundreds of numbers written very close to each other in lines. The instructions read 'Book Tract', 'How to Move' and 'Random Numbers' in brackets.
Numbers from '1' to '392' are faintly printed on the sixth disc, which is also the base of the turntables. The levelling and direction of the numbers are different. Some are placed higher than the others, while some numbers are grouped together in a line. The instructions read 'Wedge Tract' and 'How to Reference'.
Written on the top right corner of the instructions is 'Edward Lucie-Smith, ART TODAY, FROM ABSTRACT EXPRESSIONISM TO SUPERREALISM, PHAIDON OXFORD' in English. Below it is written '392 photographs of "Contemporary Arts" Arts History' in simplified Chinese.