Holly Lee
The Great Pageant Show
circa 1997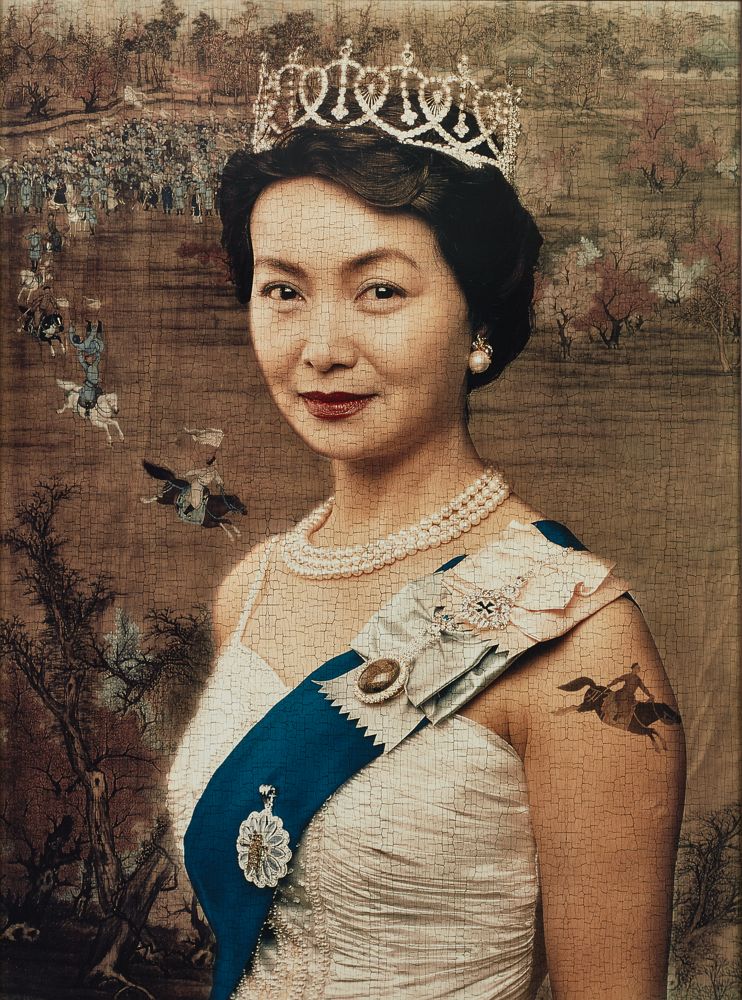 M+, Hong Kong, © M+, Hong Kong. Photo: M+, Hong Kong
BLUES WONG:
This work comprises a traditional painting background; while the lady in the foreground is in a courtly costume, including a crown and a sash with lots of badges on it. It's similar to Da Vinci's Mona Lisa. The piece is a combination of East and West, with a contemporary portrait contrasted with a landscape from the Qing Dynasty.
PRESENTER:
That's Blues Wong, who served as one of the editorial members of photography magazine DISLOCATION. During his tenure, Blues witnessed the rise of conceptual photography and the creative evolution of this piece's creator, Hong Kong photographer Holly Lee. He describes her work as a mixture of culture, history, and aesthetics, that represents the Hong Kong's historical transition.
BLUES WONG:
Holly cleverly put a motif of a running horse on the lady's left arm as a totem, or tattoo. The horse is running eastwards, signifying Hong Kong going to the East.
PRESENTER:
Holly Lee created this work, The Great Pageant Show, around 1997, closely tying it to Hong Kong's sovereign handover. She was a pioneer in using new digital technology to create composite photographs. For example, the landscape background of The Great Pageant Show is actually a painting by Giuseppe Castiglione, a court painter during the Qing Dynasty.
BLUES WONG:
Holly was a hugely important female photographer at the time, both in commercial photography and the artistic realm. In commercial photography, there were only a few women photographers, and they were mostly westerners back then.
She shared a studio with fellow photographer Lee Ka Sing. Holly specialised in portraits, and Lee in still-life photography. Holly's most well-known commercial work was the movie poster for A Better Tomorrow, a hugely popular Hong Kong film.
Most importantly, they worked as a partnership; they founded DISLOCATION magazine in 1992 to 2000. There are multiple connotations to the Chinese name, 'NuNaHeDuo' which means 'to turn completely upside down' and 'appropriation'. And appropriating other elements and practices into newness is the underpinning feature of The Great Pageant Show.
PRESENTER:
Today's digital technology still wasn't commonplace back then, and Blues remembers film being the main medium. As he recalls, this led to many interesting magazine meetings…
BLUES WONG:
There was no social media or other digital mediums in the 1990s, so we had to hold our photography meetings in person. Our magazine had a monthly event called 'Photographer's Monday', where the photographers would gather together on the first Monday of each month. We often met at a restaurant in Central; as I say, digital technology wasn't popular, so we all brought a box of photographs to the gathering. We'd wear white gloves while eating and flipping through the photographs like we were handling a Peking duck, it was so much fun!
NARRATOR:
The Great Pageant Show is a chromogenic colour print created in around 1997 by Holly Lee. The image itself is 118 centimetres high and 87.7 centimetres wide. When framed, the overall dimensions of the piece are 134 centimetres high, 103.5 centimetres wide, and 4.8 centimetres deep.


The photograph is a realistic portrait of a woman who looks like a cross between a young Queen Elizabeth II and a Miss Hong Kong beauty pageant contestant. The figure, bedecked in finery, is shown from the waist up, centrally placed, and fills the space from the bottom almost to the top of the photograph. The painting's background looks like an ancient Chinese painting that depicts a vast, open, grassy field dotted with trees where an equestrian event with over a hundred spectators is taking place. The scene is depicted from an elevated perspective. Situated in the upper left quadrant of the image, the spectators and riders are tiny in comparison to the main figure in the foreground of the work. We cannot make out their faces.


The main figure's body is in three-quarter profile, turned towards our left, with her head facing towards us and returning our gaze. She wears a formal ivory coloured ballgown with thin straps and a fitted bodice that has pearls sewn into the front of it. A three-string pearl necklace adorns her neck, falling just at the collarbone. A bright, medium blue sash draped over her left shoulder and down across her torso, is emblazoned primarily on the shoulder with royal medals made of ribbons and medallions in tones of pink, silver, brown, and black. The figure wears a silver tiara in her short, neatly coiffed, dark hair; earrings with large, single pearls; and orangey-red lipstick. She appears to have a tattoo of an equestrian rider displayed prominently just below the shoulder on her upper left arm.


The tattoo may relate to imagery in the background, which appears to be a reproduction of an eighteenth-century Chinese court painting. The background scene is largely dark beige in tone with mere wisps of trees in muted hues of rust, pink, olive and tan depicted in the far distance along the top edge of the work. A few larger, more clearly defined, gnarled trees are tucked into the lower left corner. Five or six equestrians ride toward us through the upper left quadrant of the image in a single-file formation that arcs gently to our left. The tightly huddled group of spectators, clad mostly in light blue dress, is situated further back in space, in the upper left corner. The lead rider hoists a white flag over his head, while the rider behind him actually balances another figure over his head.