Ai Weiwei
Whitewash
1995–2000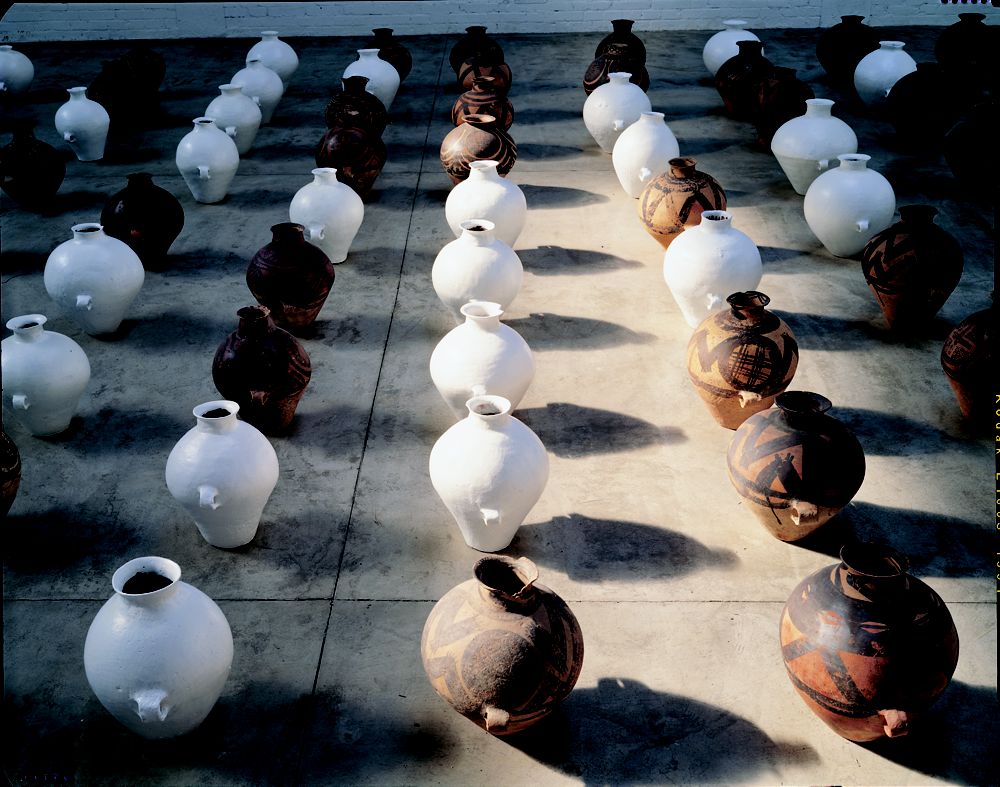 M+ Sigg Collection, Hong Kong. By donation, © Ai Weiwei. Photo: M+, Hong Kong
AI WEIWEI: 
My name is Ai Weiwei. I am Chinese. I am often known as an artist. 
PRESENTER:
Ai Weiwei is one of the most recognisable names in contemporary art. This piece, Whitewash, features many Neolithic storage jars—about a quarter of which the artist has painted white—arranged in neat rows. He told us where these elements of physicality, and structure, come from in his art.  
AI WEIWEI: 
I've been interested in handcrafts since I was a child, as I grew up with material hardship. This was a period of time when things could only be made with your own hands, from a bookshelf, a kettle, a fire stove on the wall, to your own bed. As we lived in such a primitive community, I became familiar with handcrafts, which I think is very beneficial. It's also helped with my art practice.  
How does this relate to art? There are many ways to express our feelings, it could be hundred percent based on logic, or a combination of logical and sentimental, or it can be pure sentiment. Instead of sentimental expression, I prefer to communicate based on logic, with critical analysis. 
PRESENTER: 
Given this tendency towards critical thinking, we asked Ai Weiwei where the inspiration for a piece like Whitewash comes from. His answer was slightly surprising.  
AI WEIWEI: 
None of my works were drawn from inspiration. People often ask where I find my inspiration. In fact, I've never had any inspiration—perhaps I'm not a real artist, even though I've done so many works and exhibitions. My work comes naturally from my analytical thinking, my understanding of things; they are driven by my curiosity and my state of being, from which I intend to dig the meaning out by the roots.
In fact, I don't care whether they're art or not. This statement is apparently very important, because I would never have hoped to sell my works to anyone. Or to ask people to collect them. Neither would I have thought that they would be shown at the M+ museum. This is true. I mean it. I make art because it's my hobby, I like to do it, and it also shows my attitude towards aesthetics.  
NARRATOR:
Whitewash is an installation work created by Ai Weiwei during the period from 1995 to 2000. The work consists of around 100 Chinese Neolithic earthenware jars. The dimensions of the installation and the number of jars displayed vary depending on the overall set-up.


The work is a collection of two-handled earthenware jars arranged in rows according to the display space, resembling a grid pattern. The jars are of orange-brown colour, similar to the colour of soil, and are decorated with dark-brown patterns. Among the grid of jars, approximately one quarter of them are coated with industrial white paint.


Each jar has a similar form: at the top is a short, cylindrical neck with a slightly curved rim. The shoulder is globular and has two loop handles on the sides at the widest point. Below the handles, the jar body tapers.


Most of the jars, which is around three quarters of the jars in the grid, retain their original dark-brown patterns on their surfaces. The patterns are mainly formed by thick lines, and include motifs such as circles, frogs, parallel stripes, and fish. Some of the patterns are symmetrical. The remaining one quarter of the jars, around 20 in number, are coated with white paint. The paint completely covered their original colours, the decorative patterns, and the historical traces left on the jars' surfaces. The two kinds of jars are mixed in the overall installation, and the white ones stand out from the bare ones. With the passage of time, some of the white paint has cracked and fallen off, exposing the jars' original orange-brown colour and the dark patterns.