Ohashi Teruaki
Hannan Chair Long
1984, made 1986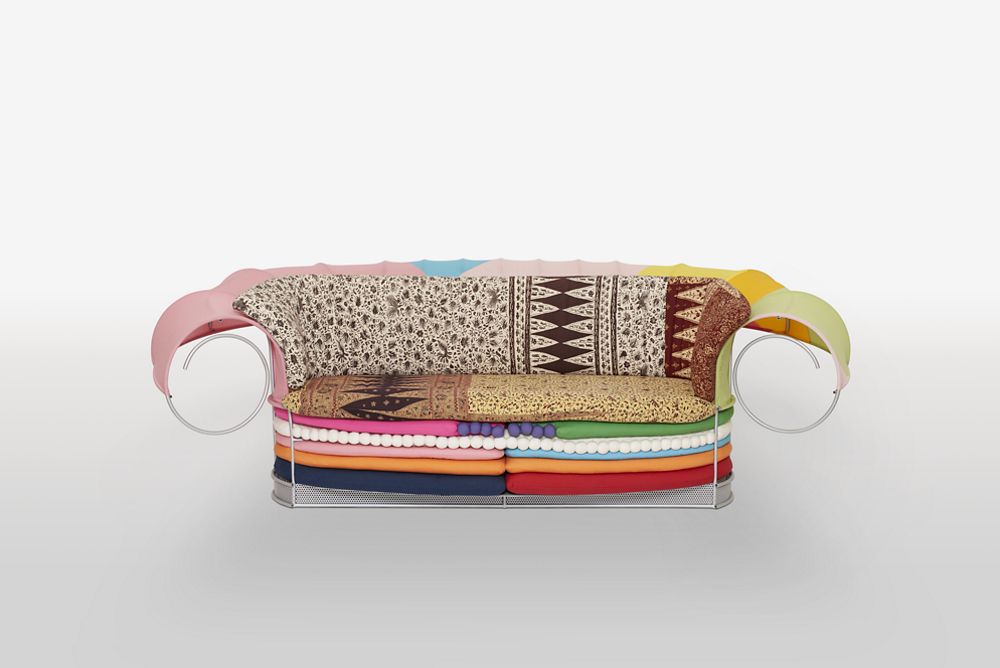 M+, Hong Kong. Gift of Tokyo Zokei University, 2018, © Estate of Ohashi Teruaki. Photo: M+, Hong Kong
PRESENTER:
Looking at this colourful, vibrant chair for the first time, you might think it something from a fairy-tale. With its multi-layered, patterned cushions and striking framework perhaps it reminds you of the story of The Princess and the Pea. Would it even be comfortable to sit on such an extravagant piece of furniture?  
It's the creation of Japanese designer Ohashi Teruaki, from the mid-1980s. Little known outside of Japanese architectural circles, Ohashi trained as an architect himself, before moving into furniture design. Across his short life, he never mass-produced pieces commercially, choosing instead to work directly with architects, making bespoke items for specific houses or spaces.  
This piece, 'Hannan Chair', was made for a house by renowned architect Hasegawa Itsuko, who shared her thoughts on the piece, and Ohashi's practice, with us.  
ACTOR VOICE: HASEGAWA ITSUKO:
When I joined the Shinohara Kazuo architecture research group, which Mr Ohashi had just left, I had the chance to see some of his architectural blueprints. Drawn with very thin and pale pencil, those beautiful drawings impressed me very much. We started to chat a lot about furniture and houses, and sometimes I asked him to design the furniture for the small houses that I designed.
In 1984, when I completed my 'NC House', I came up with this idea of creating an interior with the furniture designed by Mr Ohashi. Because it was a simple room with a bare concrete wall, I placed the Hannan chair to bring brightness and casualness. I didn't expect it to be comfortable to sit on or relax in; I thought that the function of Mr Ohashi's furniture was more to bring a strong energy, informality, and sensual feeling to the space.
Mr Ohashi was a very quiet man. Those days, he was completely dedicated to his passion for thinking about furniture. Around the time of this piece, he really surprised us by starting to create these somewhat playful designs—that he himself called 'game pieces'—we couldn't believe they came from such a serious man!
PRESENTER:
Furniture as 'game pieces'—it's an intriguing concept, isn't it? If you had to play your move with this chair, where would you put it…?
NARRATOR:
'Hannan Chair Long', designed in 1984 by Ohashi Teruaki and made in 1986 by Inoueindustries and Viale. This piece is composed of lacquered metal, cotton, and wool, measuring 84 centimetres high, 247 centimetres wide and 107 centimetres deep.


This two-seat sofa consists of brightly arranged patterns and colours of cloth with brown, beige, and warm rust colour tones on the seat cushion and backrest. These fabrics contrast with the brightly coloured cloth on the base, arms, and back of the sofa's frame. Silver metal rods with many twists and turns make up the structure of the sofa's frame.


The sofa's seat cushions and backrest are covered in Indonesian batik. When viewed from afar, they seem to have patterns of repetitive diamond shapes, dots, and lines. But when you look closer, the entire backrest has a floral pattern, a beige background with a circling pattern of flowers in shades of dark brown, beige, and sepia tones. As you look towards the left side of the backrest, the floral pattern is interrupted by a geometric pattern of two brown vertical lines followed by six dark brown diamonds, followed by the same two vertical lines. The seat cushion is covered by a small floral pattern in a warm yellowish beige colour. This floral pattern has small accents of dark, almost black, shade of blue and deep burgundy wine colours. It is interrupted on the sofa's right by a large horizontal band of beige with irregular brown geometric shapes.


Under these seat cushions, rest five layers of seat cushions with divided colours atop a perforated steel frame. The top layer on the right is hot pink, and the one on the left is green with medium-sized purple balls in the centre connecting the two. The next layer is white with little balls and runs across both sides of the sofa while the section underneath is parted in the middle, one light pink and one sky blue. Although the next cushion is also divided in the middle, both sections are orange. Finally, the last layer is navy blue on the right and crimson red on the left.


Each arm of the couch is composed of a large sliver metal rod which curves into a spiral in its middle. It is covered by a thin, stretched layer of patchworked cotton fabric. The arms seem to have protruded out of the back upper most layer of the sofa slat. This upper-most layer has this division of colours: a medium dark shade of pink on the sofa's right arm, a small section of baby blue, then light pink, then a small section of yellow, followed by a light orange, then light green, and lastly a section of light pink again on the sofa's left arm.